It smells of futaba afui; the strong sunlight bakes your skin and the clean air fills your lungs. When the sun sets over the mountains, go ahead and partake of a light beer in a tree shaded tent and let the Savannah breeze take your worries away. Close your eyes and listen to the call of the animals like ambient music.
---
Whether it's to kick your feet up, or raise your glasses in a toast, we hope you will enjoy the mood that The Lion's Den inspires.
Manager Shinya Mita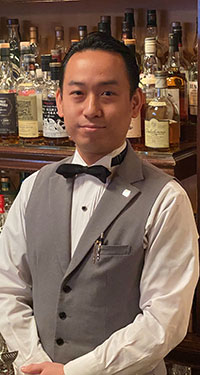 Mitsuaki Takenaka, the winner of the 2008 Cigar Service Concours, will serve you as cigar concierge.